WHO WE ARE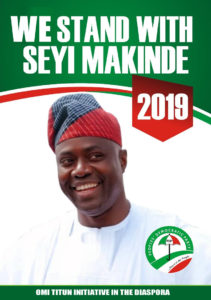 Omituntun Initiative in the Diaspora(OID) is not a political party but a movement. An 'Interest Group' of professionals in different fields who share the vision, passion and sincerity of Seyi Makinde in developing Oyo state.
We bring the right professionals together to create channels for sustainable infrastructural development
The most effective way to bring value to Oyo State and achieve advantage is through projects that give us the opportunity to create an enabling environment to unlock potential and drive transformation.
As a people we have witnessed the administration of different leaders in Oyo state at all levels. We believe it is time to have a new wine in a new bottle; a fresh hand to the plough, a new breed of leadership drawn from among the people; someone who shares the understanding, feelings and the mind-set of the common man.
This movement is about you, about your tomorrow, about having a new lease of life, having a government you can really call your own.
Oyo state needs to move forward and progress rapidly, in Education, Agriculture, Commerce, Health, Security, Power, Infrastructure and most importantly governance needs to wear a fresh look. Talking tough is not enough, It is time to be part of this project.
This is not about partisan politics but about personality and securing your future by sharing the vision with SEYI MAKINDE.
There is a need to focus on the future of Oyo State through the implementation of Sustainable development Goals (SDGs) to bring about the much desired transformation.
We are professionals from diverse fields and we have saddled ourselves with the responsibility of ensuring that a vibrant, purposeful leadership is maintained in the State.  WE ARE TEAM SEYI MAKINDE.
Vision
To support Seyi Makinde's quest to bring peace and prosperity to the people of Oyo State through the vision of a young and dynamic leader.
To be the true pacesetter state and a leading economic power.
Mission Statement
Galvanising local and international support in bringing hope back to the people of Oyo state through the leadership of Seyi Makinde as Governor.
Initiating a significant bottom-up drive to re-educate the citizens on the need to reposition Oyo State as true pacesetters by harnessing its human and abundant natural resources through massive investments in education, innovation and technology, respect for human rights and human security while promoting a united state loved at home and respected abroad.
Our Values and Guiding Principles
Equity
Justice
Integrity
Unity
Progress
Our Agenda
Being a group of professionals from different backgrounds; both at home in Oyo state and abroad, our agenda is aimed at a total paradigm shift in the people's perception of governance.
Governance has been made too complicated for people of Oyo state with many voting for years without knowing what they are voting for.
We believe it is time to break down governance for the people. It is time for the people to know that they own the government and deserve a better deal from them.
We intend to support and promote young, vibrant, resourceful and focused leaders who will take the baton of leadership and propel Oyo state to the next phase of developmental revolution.
While we are very grateful to those that have piloted the affairs of Oyo state in the past, we strongly feel it is time to take the bold step of having a new generation of leaders to advance the course of good governance in the state.
We are committed to playing our role in making Oyo State take its leadership position in the committee of states and changing the narrative people are used to in the Pacesetter state