OMITUNTUN IN DIASPORA (OID) ESSAY COMPETITION 2019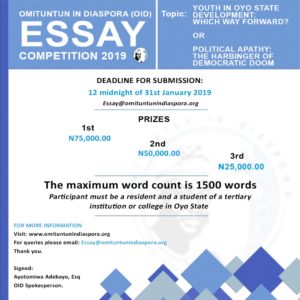 OMITUNTUN IN DIASPORA (OID) ESSAY COMPETITION 2019.
About
The Seyi Makinde Essay Competition is a competition that creates a platform for public policy discourse on Oyo State socio-economic concerns among the youths, who consist about 79.8% of the 7,840,864 Oyo State population (NBS, 2016). Omituntun Initiative in Diaspora (OID) in line with the vision of Engr. Seyi Makinde are set to build an enlightened community of citizens committed to raising an army of young, vibrant resourceful and focused future leaders who will take the mantle of leadership and propel Oyo state to the next phase of developmental revolution.
Aim
The Omituntun Essay will equip Oyo State youths with necessary socio-economic and educational exposure and skills for future career development. This initiative is an extension of the many philanthropic acts of Engr. Seyi Makinde in his bid to show his love and will to be part and lead the transformation in Oyo State.
Preamble
Oyo State has been pivotal in the socio-political history of Western Nigeria and by extension in Nigeria as a whole. Despite her enviable historical antecedence and being the home of many firsts (by pioneering several landmark achievements and edifices) her developmental strides in recent times have not measured up to expectations. Several democratic administrations have done their bit. However, as the current democratic administration winds up and we are close to the threshold of a new administration come 2019, the question of the best development path for the State comes again to the front burners. Analysts of different ilk, especially those that are sympathetic to the various landmark achievements of the State during the era of the first Republic courtesy of Cocoa fund, posited that a large-scale government investment in the agricultural sector should come first in putting the State on a take-off path to development. On the other side of the divide, is the school of thought that holds that foreign direct investment and building of industries should be the government's first priority in leapfrogging into development. However, in the various views expressed to this end, there have been a total neglect of the
invaluable contribution that the youths can make towards development in the State. The youths form a critical mass of the labour manpower and the human capital for meaningful development in the state and cannot be relegated to the background.
This edition of OID Seyi Makinde Public Policy Essay Competition will create a robust platform for entrants from various tertiary institutions to make submission advancing the role of youth in the development of Oyo state.
Essay Topic Options:
Youth in Oyo State Development: Which Way Forward?
"Political Apathy; The Harbinger of Democratic Doom"
DEADLINE FOR SUBMISSION: 12 midnights of 31st January 2019.
TARGET OBJECTIVES
To provide a veritable platform for public policy discourse among students of higher institution on the subject of Oyo state.
To expose students of higher institution to socio-political issues in the state.
To hone students critical thinking skills on socio-economic policy issues of Oyo state.
To create awareness on developmental issues on Oyo state among students.
To encourage developmental and economic policy research on Oyo state among students.
To create awareness about Oyo state economic and developmental history with a view to encourage young minds to come up with fresh idea on the way forward.
To provide a token of reward for fresh and innovative ideas on how to develop the state.
ELIGIBILITY
Participant must be Oyo State resident and a student of a tertiary institution or college.
Participant must have a matriculation number or state code which must be provided in the form
Participant can only support one viewpoint in the theme and not both
Submission must be made in English alone.
Submission must be the participant original work and must pass the 20 percent plagiarism test.
The maximum word count is 1500 words.
Participant must provide the necessary information as indicated in the form.
Deadline for submission is 12 midnights of 31st January 2019.
Failure to abide by the above rule will amount to disqualification of participant
OTHER GUIDELINES
Participant should be creative and realistic as it applies to the Oyo state situation.
You are expected to focus on a specific sector
Points will be awarded to in-depth understanding of the topic, creativity, originality, depth of research, and real-life application.
1 electronic copy of your essay must be submitted must be by email to

[email protected]

The essay must be submitted in Microsoft Word format. Submissions using pdf, etc. will be disallowed.
Formatting

Margins

Left: 2.54 cm; Right: 2.54 cm; Top and Bottom: 2.54 cm.

Applies to all material except page numbers.

Includes figures, headers/footers, footnotes and endnotes, and full-page images.

Page numbers: at least 1.9 cm from edge of page.

Fonts
Embedded fonts required.

Font size: 10, 11 or 12pt.

Italicised font may be used for non-English words and quotations. Applies to all text including captions, footnotes/endnotes, citations, etc.

Line spacing
1.5 or double lines: abstract, dedication, acknowledgements, table of contents, and body of manuscript, except for quotations as paragraphs, captions, items in tables, lists, graphs, charts.

Single-space: footnotes/endnotes, bibliographic entries, lists in appendices.
BENEFITS
The first ten winners will be chosen. First prize is the sum of N75,000.00, second prize is N50,000.00 and the third prize will be N25,000.00. The other seven runners up will be given consolation prices. All winner will also be given a certificate of honor and recognition by the organization.
For all essay competition enquiries please email: [email protected]
Thank you.
Signed:
Ayotomiwa Adebayo, Esq
OID Spokesperson.
Email: [email protected]
Visit: https://omituntunindiaspora.org/